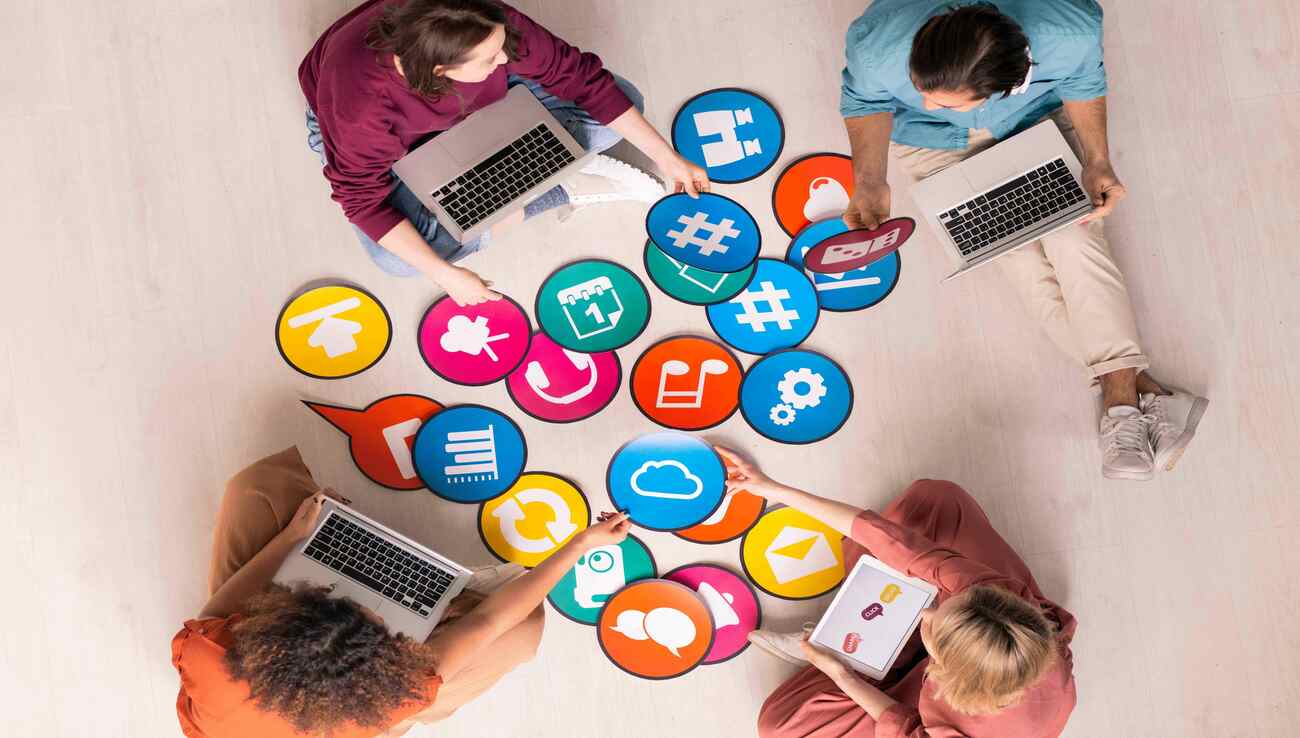 7 Must-Follow Digital Marketing Trends 2022
Every year, new and unexpected digital trends emerge that help lay the basis for the future of marketing. The year 2021 had its ups and downs, but it did not let us down. The year 2022 will be a watershed moment for digital marketing trends.
TikTok, which has already surpassed all other platforms as the most popular social media site among Generation Z, continued its meteoric climb at the beginning of the year. As the popularity of NFTs and cryptocurrencies grew, so did the number of people talking about how the financial system would evolve in the future. Advertising and digital marketers have only two years to find new ways to connect with their target audiences after Google declared it will stop using third-party cookies in 2023. Meta represents Facebook's desire to embrace the metaverse, a three-dimensional virtual universe.
As a whole, there are a lot of fascinating and innovative digital innovations that will change the way we connect with our customers. We've compiled a list of the most important digital marketing trends to keep an eye out for in 2022.
1. Short Videos
Status updates and curated photo grids have been overrun by short video broadcasts in the social media environment. The short-form video material was quickly adopted by other sites, including Instagram's Reels and YouTube's focus on the format.
To keep up with our fast-paced lifestyles, short films need messages that are clear and concise, as well as material that entices us to engage, such as learning a new dance or taking part in a challenge.
It's nice that anybody can make a fast film that isn't very professional using their cell phone. Younger customers are more interested in video material that is authentic, unscripted, and unrehearsed since it's exactly what they're looking for.
2. Share a Story
When it comes to brand marketing, storytelling is a must-have. Because of this, when it comes to marketing your product in today's competitive marketplace, customers are fed up with hearing about how your product is superior to the competitors. They want to know how well you've met their wants and expectations by keeping your commitments.
Brands shouldn't just sit back and allow their customers' reviews to do the talking. It is not enough to just inform them about the advantages of your product or why it is superior to the competition; instead, you should use client testimonials and anecdotes to demonstrate how your product or service can address a particular issue.
The new marketing strategy is to convey a story. Your clients will think, "Damn, maybe I should check this out," even if you don't earn any money off of it.
Even if it doesn't directly lead to sales, it's a terrific method to position your brand in the thoughts of potential customers who are researching a certain problem. As a result, you'll be the first person they contact if they ever run across this problem.
3. Focus on Your Audience
Over the course of a year of lockdowns, social media users have become tired, worried, and at times sad by the relentless assault of material they receive. As a result, some people have decided to terminate their Facebook accounts. Ads, promotions, and breaking news continue to deluge those who choose to stay on their social media networks and to suggest that their feeds are overburdened would be an understatement.
Consider how and why your message would stand out among the dozens of other sales-y posts someone would see in a two-minute stroll. The people who are most interested in what you have to say will hear it if your approach focuses on engaging your current audience and establishing a database.
Consumption of media has become more discerning as the digital environment evolves. Don't be one of the accounts that are unfollowed by your followers.
4. Transparency & Building Trust
Overexposure to digital advertising has led to an increase in consumer skepticism about the material they are shown. Consequently, in 2022, digital marketers must anticipate stronger privacy regulations that will impact the way they may monitor their consumers' activity.
Earlier this year, Google made an official announcement that it will stop using third-party cookies by 2023. Because of this, many marketers and advertisers will have to rethink their methods.
That's not the end of data-driven content or marketing. Personalized advertising is far from finished. If you're searching for a silver lining to this digital marketing monopoly upheaval, think of it as the beginning of a new age of trust and openness between companies and consumers. As a business, it is important to explain to clients why you are collecting their personal information. Opting out should be simple and accessible. And don't gather any data that you don't need.
This new approach to digital marketing is likely to yield positive outcomes for your customer interactions because, as we've previously discussed, customers are more interested than ever before in "keeping it genuine."
5. Personalization
A lot of attention will be paid to personalization in 2022. Create targeted advertising that specifically targets your target demographic instead of relying on generic material that appeals to a large audience. Moreover, it isn't simply the substance that you need to be careful about keeping your audience engaged in an oversaturated marketplace that necessitates ensuring that your advertisements are delivered at the correct moment and location.
Making the effort to learn about your audience's preferred platforms, as well as how they use them, allows you to tailor your messages to each group. Ad spending will go further and consumer loyalty will be improved if you can get your message in front of the right people at the right time.
If you're selling the same product across many social media platforms, it's important to account for regional differences and cultural connotations as well. The reason for this is that customers who see your campaign at various touchpoints will be drawn in by a variety of materials delivered at a variety of times and in a variety of formats. Make your audience feel heard and understood, and it will be worth the effort.
6. AI in Digital Marketing
Automation of routine marketing operations like tracking website traffic and improving SEO for natural reach has been made possible in recent years because of advances in artificial intelligence (AI). Instead of concentrating on what AI has already given us, we should look to the future and how it affects digital marketing.
The capabilities of artificial intelligence (AI) are expanding at a rapid pace, from the ability to automate routine processes and campaigns to the ability to forecast what consumers want next. Artificial Intelligence (AI) has the potential to evaluate more data, faster, than we can as human beings. With the help of this, it may make use of all that information on clients' buying histories and habits. A customized advertising or an offer relevant to your customer's needs would be ideal.
Predicting your customer's future moves enables you to provide them with the product or service they need, at the time they need it. A high conversion rate and an impression that you know and care about your consumers are two benefits that come from this kind of targeted advertising, which avoids both being invasive and overpowering.
7. NFTs & Crypto in Social Media
Even if you're not a crypto investor, it's been hard to ignore the growth of cryptocurrencies and non-fiat tokens in recent years. A trend that doesn't seem to affect your marketing plan on the surface may not really be a trend in 2022!
As social media platforms like Twitter begin to accept bitcoin payments, now is the time to consider how your organization might join the cryptocurrency movement. There will be an increase in NFT display and avatar options in the near future as a result of Facebook work.
As a result of using NFTs and bitcoin, the emphasis shifts from selling items and services to promoting the brand's values.
If your business doesn't have the resources for digital marketing, Knoativ will get your business out there.